Purify what weighs heavy on your heart.
Magnetize your heart to attact happiness and success in love and all areas of life.
Feel alive, compassionate and joyful.
Deepens connections and communication.
Helps you LIVE RESILIENTLY!
Science based methods to…
Increase Resilience
Increase resilience, vitality and feel better more often.
Gain Clarity & Purpose
Achieve clearer perspectives in difficult situations. Revitalizing relationships.
Restore Health
Restore nervous system health and balance the mind, heart and emotions.
Create Inner Ease
Recognize and disengage from the negative impact stress has on your body and mind.
Awakening Divine Love
Uncover the love you are seeking,  it's right within you.
Self Exploration
Understand the relationship between emotions, stress and health.
💖 Expand Your Capacity to Love!
This is the entry point, the foundation of Awakening Your Heart Wisdom to Live Life With Heart! In this 1-hour online experience you'll discover simple, practical, techniques that will help you to deepen your heart connection, purify heart heaviness, magnitize your hearts desires, as well as, build  personal resilience boosting your ability to manifest longterm love and success.
Learn to integrate these science-based techniques to change your hearts physiology to magnitize to you with ease and grace your hearts desires.
Make a commitment to yourself to Awaken Your Heart Wisdom and experience the full expression of life in love,  happiness, success and joy!
Sign-up to get upcoming dates.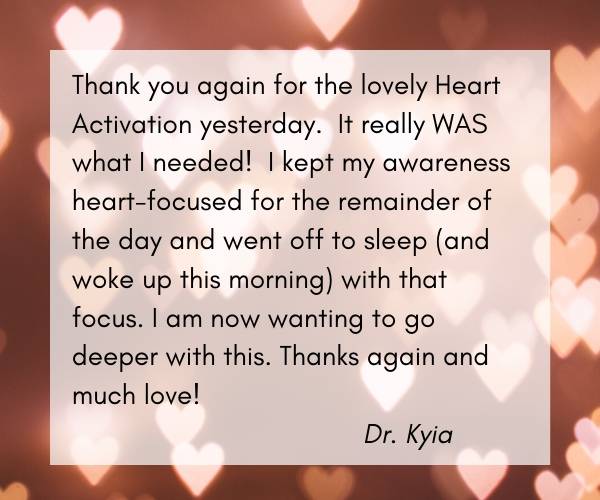 Thank you again for the lovely Heart Activation yesterday.  It really WAS what I needed!  I kept my awareness heart-focused for the remainder of the day and went off to sleep (and woke up this morning) with that focus. I have actually set my watch timer hourly to check in and re-focus on heart activation to keep this wonderful energy flowing.
Thanks again and much love!
The HeartMath coaching sessions with Jennifer have helped me understand how important it is to have my heart and brain work together in a coherent way. Each session started with the discovery of an issue I wanted to work on, and Jennifer masterfully helped me find the root of the issue, after which she gently guided me through one of the HeartMath meditations to help release the cause. It is way better than therapy and it's much more effective than regular coaching sessions, because the HeartMath techniques, especially when guided, have you feel what is going on in a coherent way.
To experience peace and connect to your heart then work with Jennifer!
Learning and doing the techniques together, your way of leading and pacing is gentle and perfect timing for me to really get into it. Also, repeating it is helpful especially with Freeze Frame which is a bit more complicated.
The 3rd session was so valuable since I just had a brush of challenge (with the road rage guy) and able to remember and use the technique. Not sure if I can do it every time I encounter a challenge, but it seems more in my everyday conscious attitude.
I hope to progress as time goes by so I can enjoy coherent life rather than chaotic life I had lead for so many years!! Thank you my dear!!!
Awakening divine love in all hearts!
May Thy love conjure my love to love all with Thy love.
I am seeking | I am striving | I am in it with all my heart!
Through an open heart one hears the universe.
Blessed are the pure in heart: for they shall see God
Every life has its challenge. Every heart has an answer!
Heart is what separates the good from the great!